10 Jan 2022
MSP "Swaps Suit for Walking Boots" at Schiehallion
In October, the John Muir Trust welcomed East Lothian Member of the Scottish Parliament Paul McLennan to Schiehallion to discuss the urgent action needed to protect Scotland's wild places in the face of the climate and biodiversity crises.
Mr. McLennan took a walk around the new low-level footpath, which winds through young native woodland and offers fantastic views up to Schiehallion's summit. He was joined by the John Muir Trust's Policy Adviser Alan McCombes, and the Trust's Parliamentary Adviser Josselyn Olguin. Like John Muir himself, McLennan hails from the east coast town of Dunbar, and shares a similar passion for wild places.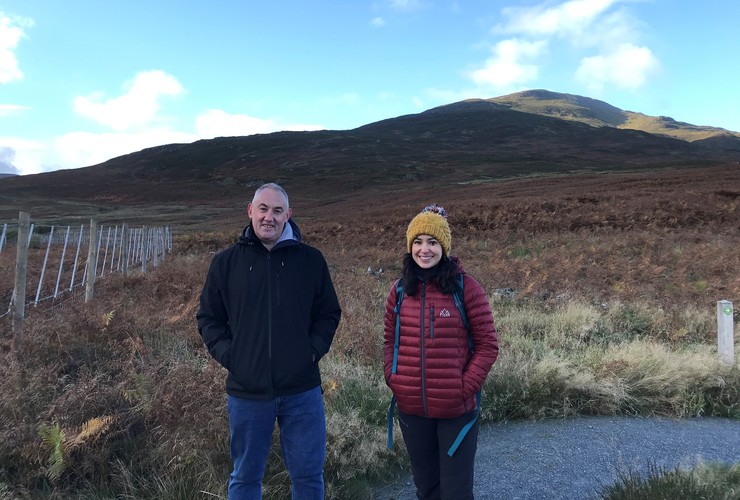 His visit to Schiehallion enabled McLennan to see firsthand what the Trust is doing to restore upland habitants here – including replanting native broadleaf trees, reducing herbivore grazing pressures, and maintaining the popular mountain path to prevent erosion.
He was also given an insight into the Trust's ambitions for Scotland's wild places; as areas that work for local people and visitors, support natural climate change mitigation and address biodiversity loss.
Ahead of the Scottish Parliament Election in May, we set out our manifesto for Scotland's land, communities and nature, which detailed 8 key asks of the incoming Scottish Government. These were:
Maximise natural carbon capture and storage from our land through a banded tax system.
Develop a strategy for Scotland's Wild Land Areas with the aim of realising their environmental, ecological, educational, health and economic potential.
Create six dedicated John Muir Award Development Officer posts covering all 32 of Scotland's local authority areas.
Appoint an independent working group to develop a spatial strategy to ensure that areas valued for their ecological, landscape and wilderness qualities are protected from large-scale development.
Maintain the Scottish Land Fund and double the amount available to £20 million.
Introduce a new Deer Act to replace the 1996 legislation.
Support a Scottish Environment Act to clean up our air, soils, rivers and seas, and to protect and restore our wild places.
Maintain the Rural Tourism Infrastructure Fund at £6m for next five years.
Alan and Josselyn also talked about the Trust's Carbon Emissions Land Tax proposal, which aims to tax major landowners according to their land uses and estimated negative or positive emissions, with the objective of incentivizing the functioning of land as a natural carbon store.
Commenting on the visit, McLennan said:
"I thoroughly enjoyed my hike with John Muir Trust officers at Schiehallion. It was great to swap my suit for walking boots and to have the opportunity to experience Scotland's wild spaces.
"The John Muir Trust manifesto sets out concrete action needed to tackle the twin climate and biodiversity crises here in Scotland – all of which I agree with and support.
"Natural carbon capture is a huge opportunity for Scotland, and we have immense potential to maximise on this opportunity with our vast landscapes, uplands and natural habitats.
"Big changes are needed if we are to reverse the effects of climate change. A carbon tax which encourages Scotland's landowners to adjust their behaviour towards a greener, more sustainable future is just one of the steps we need to take to safeguard our climate.
"I look forward to continuing to work with the John Muir Trust to develop protect and preserve Scotland's land, communities and nature over this parliamentary term."
Josselyn Rizo, Parliamentary Officer of the John Muir Trust added:
'We were delighted to welcome Paul to the 'Heart of Scotland' to see the massive potential that Scotland's wild places have in contributing to the Just Transition to a low carbon world.
"Our wild places, if managed well, could capture carbon; boost biodiversity; regenerate rural economies and provide a fantastic environment for locals and visitors alike to visit and explore.