24 Mar 2022
Lochaber schools 2022 Wild Poetry winners announced
Enjoy this year's four winning poems written by Lochaber pupils who are inspired by wild places.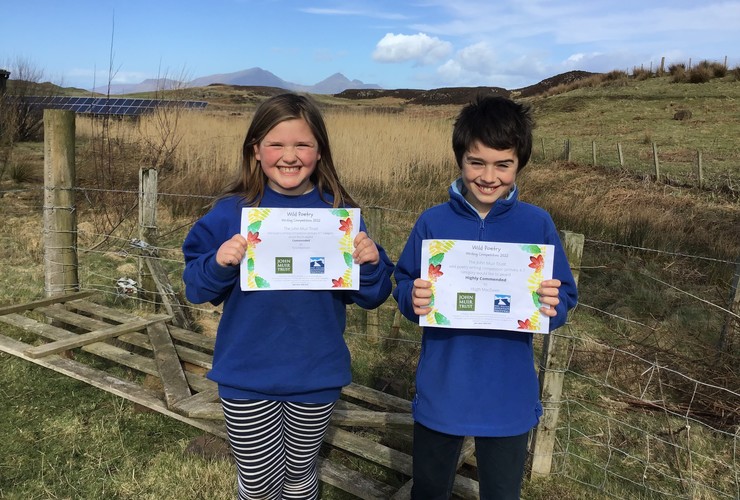 We were delighted that our annual Wild Poetry competition attracted almost 600 entries from 19 primary schools from across Lochaber this year. From Invergarry in the east to Isle of Muck in the west, the entries included around 80 poems in Gaelic - which was a wonderful celebration of Gaelic's relationship with nature.
Now in its 14th year, the Wild Poetry competition is run alongside the Fort William Mountain Festival where the winning and commended poems are displayed in the exhibition space for the public to enjoy. The annual competition is open to all primary school pupils in Lochaber who want to tell us through poetry what makes our wild places so wonderful.
Huge thanks to everyone who took part and many congratulations to our 2022 Wild Poetry winners:
English P1-3
1st - Moira Simpkinson, Strontian Primary
2nd - Arran O' Connor, Arisaig Primary
3rd - Suilven Holmes, Kilchoan Primary
English P4-7
1st - Rowan MacLean, St Columba's RC Primary
2nd - Katie Pescod, Banavie Primary
3rd - Freya McCarthy, Eigg Primary
Gaelic P1-4
1st - Angus MacAulay, Acharacle Primary
2nd - Eoin Burton, Mallaig Primary
3rd - Holly Livett, Acharacle Primary
Gaelic P5-7
1st - Olivia MacGregor, Acharacle Primary
2nd - Donnie MacAskill, Acharacle Primary
3rd - Anna Fothergill, Mallaig Primary
One of the competition judges Nathan Berrie – our Nevis Conservation Officer - said: "It has been a real privilege to read about how young people in Lochaber interact with wild places. Whether it was spending time on their bikes in nature or simply just a walk in their local woodland, each poem offered a special insight into why nature is so important to us all.
"It was difficult to decide the winners. Some stood because of their captivating subjects. Others attracted us with their descriptive words, flow and rhythm, conjuring up that special quality of an animal, or a place, or the feel of taking part in something outdoors in our wonderful wild weather."
The John Muir Trust wishes to thank all those who took part, including pupils, schools and teachers. We would also like to thank The Highland Book Shop and Comunn na Gàidhlig for their kind donation of book tokens as a prize and to staff at the Nevis Landscape Partnership and Comunn na Gàidhlig who helped judge the poems.
Lauren Byrne from Comunn na Gàidhlig said: "It was a pleasure to support the John Muir Trust with this project. Comunn na Gàidhlig are big advocates for encouraging children to appreciate nature and the outdoors. The poetry created is a beautiful celebration of the connection between the children, the language and the land."
"Bha e na thlachd dhuinn a bhith a' cur taic ri Urras Iain Muir leis a' phròiseact seo. Tha Comunn na Gàidhlig gu mòr airson clann a bhrosnachadh a bhith a' cur luach ann an nàdar is àitichean a-muigh. Tha a' bhàrdachd a rinn iad na comharrachadh eireachdail den dàimh eadar na cloinne, a' chànan agus an dùthaich" - Lauren Byrne - Comunn na Gàidhlig.
The next Wild Poetry competition is scheduled to take place again next winter to coincide with the Fort William Mountain Festival 2023.