18 Aug 2023
Glenlude awarded Rewilding Britain funding
Funds from the Rewilding Innovation Fund will support our Growing Glenlude project - a woodland scoping study that will help shape a new long-term plan for native woodland restoration.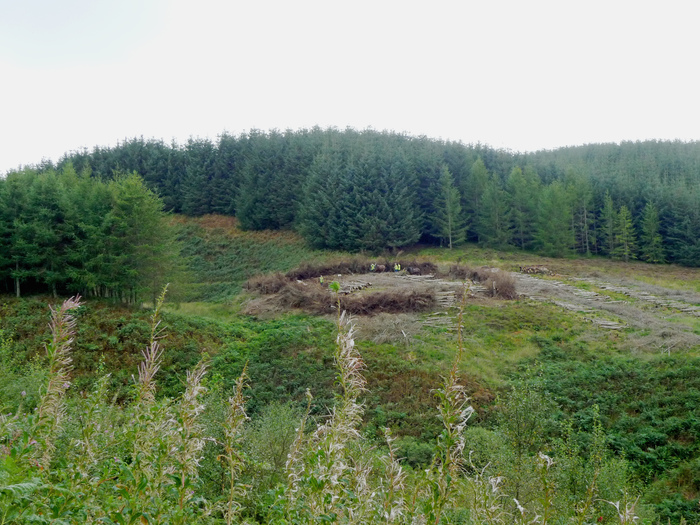 Our Growing Glenlude woodland scoping study has had a boost from Rewilding Britain's Rewilding Innovation Fund. The money will help us assess the potential to expand native woodland and support a diverse mosaic of habitats at the 149-acre site we care for in the Scottish Borders.
Restoring Glenlude
Since 2013, the Glenlude team has been working towards a long-term forest plan agreed with Scottish Forestry (then Forestry Commission Scotland). Highlights include:
Removing sheep from the hill and reducing grazing pressure through upgrades to stock fencing and a programme of deer management.
Restructuring existing coniferous plantations with 3.78 ha of the 39.99 ha of commercial forestry being felled to kick-start natural regeneration and allow for planting of over 8 ha of native broadleaved woodland.
Working with volunteeers to gather and propagate tree seed in the on-site tree nursery - a great way to educate and engage people in habitat restoration.
Longer term, we have a vision of a flourishing ecosystem, including mixed density woodland with glades and open areas where a range of species can thrive within the different levels of canopy cover, all supported by a team of volunteers.
Glenlude has already become an important hub for conservation volunteering: in the 10 years between 2013 and 2022 we welcomed 4,202 volunteer days of conservation work.
Wild places for all
Our 'Wild Places for All' policy is a long-term commitment to making wild places accessible for more people, so we are making adaptations to the Glenlude site so it is accessible to even more people. Over the next two years we plan to install two all-abilities paths. This will enable us to offer more inclusive community engagement opportunities to a wider diversity of participants, including young people with learning disabilities.
Glenlude is a beautiful, calming location for local schools and community organisations to develop skills, and experience the wellbeing benefits of connecting with wild nature as part of a thriving ecosystem.
A new vision
In 2021 the Trust was served with a Statutory Plant Health Notice (SPHN) for Glenlude in relation to 10ha of hybrid larch that was contaminated with Phytophthoraramorum. This unexpected acceleration of felling on the site means we need to review the long-term forest plan.
Once an updated forest plan is in place, we can begin action planning for the next ten years of restoration, engagement and inclusive volunteering.
Our Growing Glenlude scoping study will enable us to estimate the costs and timeframes associated with the options identified. This will form the basis of a new long-term forest plan that will guide the next phase of our work and ultimately leave a positive legacy of a wilder Glenlude for future generations.