17 Jul 2020
Field Notes: Summer on Skye
Skye Conservation Officer Cathryn Baillie is happy to be back on the hills monitoring and preparing for planting 20,000 native trees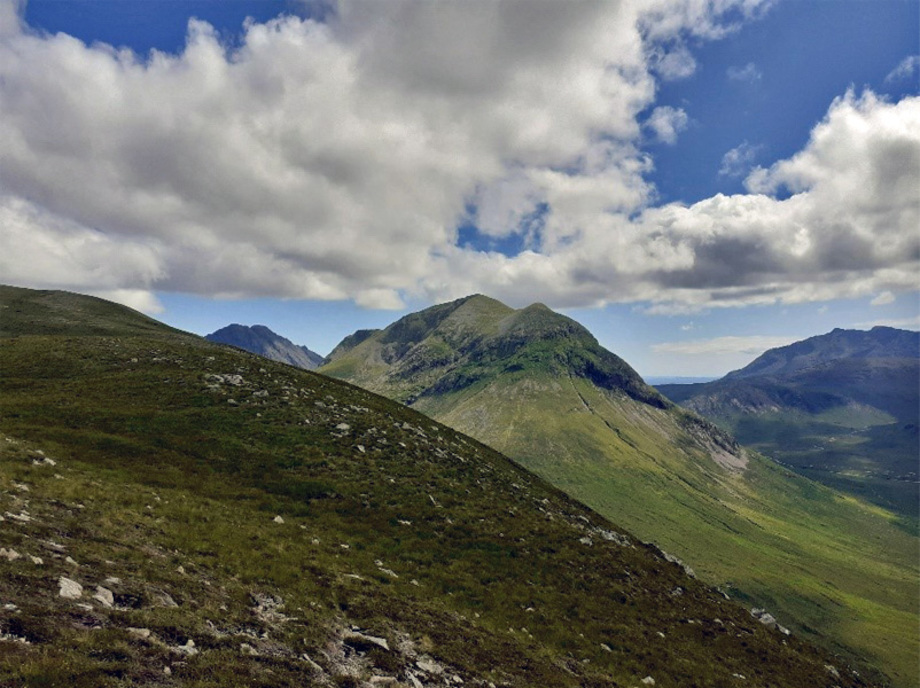 After a stilted start to the season, it was a welcome relief to finally be allowed back out onto site. We have a long list of jobs to get through and everyone was eager to break their lockdown routines and head for the hills.
At Strathaird Farm I'm struck by how much things have grown. Lush greens and splashes of vibrant colour draw me in. The wildflower seeds, sown on 'wasteland' around the farm have matured into a stunning display that hums with life, providing plenty of practice for the young swallows to hone their aerial skills.

My first task was to kick off the year's monitoring programme with a visit to our various dwarf shrub heath plots, a great opportunity to do a bit of exploring and observing to see what, if anything, has changed. The weather was spectacular, and I hardly saw a (human) soul, a somewhat rare experience on Skye these days! I think the wildlife was a bit surprised to see me, having clearly gotten used to having the place to themselves for a while, eagles eyed me suspiciously from their roosts and the deer moved off grudgingly as I approached.

Stag season is underway, and we have tentatively started to work towards our yearly targets, conscious of the trade restrictions and low venison prices this year. However, after revisiting some of our marked tree seedlings, it is clear that the deer are impacting on the natural regeneration of native trees within Strathaird (see photos above) and their numbers need to be controlled if we want our woodlands to flourish.

This year we hope to see some major progress in our woodlands with the restocking of a significant clear felled site. The c25 hectare commercial conifer plantation was felled in 2017 and we are now working on upgrading and repairing the surrounding deer fence in preparation for the planting of over 20,000 native broadleaves (see photos below). It will be an important link in the woodlands on the Strathaird peninsula, creating continuous cover along the entire length of the eastern edge of the Estate. This is a fantastic project that has been made possible by the kind support of everyone who donated to our Wild Woods Appeal. We hope that it will have a big impact on our local wildlife and the biodiversity of the area in general.
I have missed my wildlife surveys and I'm excited to see how our residents have fared since I saw them last. Seeing the familiar birds with their new families and watching them grow is a joy, and strangly I feel proud of the youngsters and how they find their way to adulthood. The little grebes who live on Loch Kilchrist were a delight to watch as the young siblings charged about noisily, quite a contrast to the discreet adults who I got to know over the cold winter months.
My monthly BeeWalk takes me through various habitats on the farm and it is fascinating to watch the busy wee critters in action, endlessly flitting from one bloom to another whilst I try to get a positive ID.
The evenings are spent looking for our nocturnal residents with several bat surveys to carry out in July and August. Although I listen out for various species, it is the common pipistrelle I encounter the most, with their erratic flight patterns they swoop in close to gorge on the midgie cloud above my head. I'm grateful for the tiny souls who can hoover up 3,000 insects each on a single night!
It's interesting being out on the land at night time. The place seems very different somehow and the unfamiliar sounds can take some time to identify. Drumming snipe display eerily over the grazing grounds and far off I can hear foxes scream and the beginnings of the roe deer rut.
Looking at our wildlife it seems that summer is in full swing, but for our human population it is just beginning. Normally by now the island would be jam-packed with holiday makers touring our roads and experiencing our wild places, the village shops bustling with excited visitors.
This year has been very different though, the first few tents and camper vans are only just starting to appear, shops and restaurants are cautiously opening their doors again after many weeks of uncertainty. Residents have mixed feelings about the inevitable arrival of the tourist season. Without doubt the island relies on it and many people are desperate to begin trading again, but others are nervous about our fragile communities and how they might cope if the Covid-19 infection rate rises.
We hope that if you do decide to travel this year that you will be considerate in your actions and choices, but most of all that you stay safe and have an experience to remember.
All photographs by Cathryn Baillie