Alan Reece Gallery
The regular exhibitions in the Wild Space's Alan Reece Gallery in Pitlochry provide a small income for the Trust's work and help raise awareness of wildlife and wild land conservation.
The Alan Reece Gallery is currently closed, but we will reopen from Saturday 1st of May.
Details of our upcoming and past exhibitions are listed below. Dates may change slightly so please check the website before planning a visit.
To find out more, please email the Wild Space manager or call 07768587354.
Current and upcoming exhibitions
Michelle Hewitt: Scottish Wildlife

1 May 2021 - 10 May 2021

Michelle first got interested in depicting her local wildlife when her primary school teacher gave her a copy of Albrecht Dürer's 'A Young Hare' to study. She works from her studio in the East Neuk of Fife, but her art is becoming growingly famous in UK and abroad. Michelle is particuarly interested in depicting the soul of her subjects, which she believes is visible through their eyes. You can view a selection of her original artworks at the Wild Space in Pitlochry, or on Michelle Hewitt's website.

Nigel Spencer: Wild Britain

11 May 2021 - 28 June 2021

Nigel Spencer is an experienced mountain walker and a specialist wildlife photographer. He qualified as a Mountain Leader with the British Mountaineering Council and has climbed more than 220 Scottish Munros. When not travelling abroad, he often spends his time photographing birds and mammals in their mountain and moorland habitats as well as capturing the beauty and solitude of the remote Scottish Islands. Nigel's image of a Bohemian Waxwing (above) was awarded the best image in the 2019 Royal Photographic Society Nature photography exhibition. A great supporter of the work of many conservation charities, he has recently donated some of his award-winning photographs to the John Muir Trust. Please visit Nigel's website for further details on his work and travels.
Save the date!
From the 21st of May, we will have the honour of displaying a special artwork created by internationally acclaimed Scottish wildlife artist Paul Bartlett.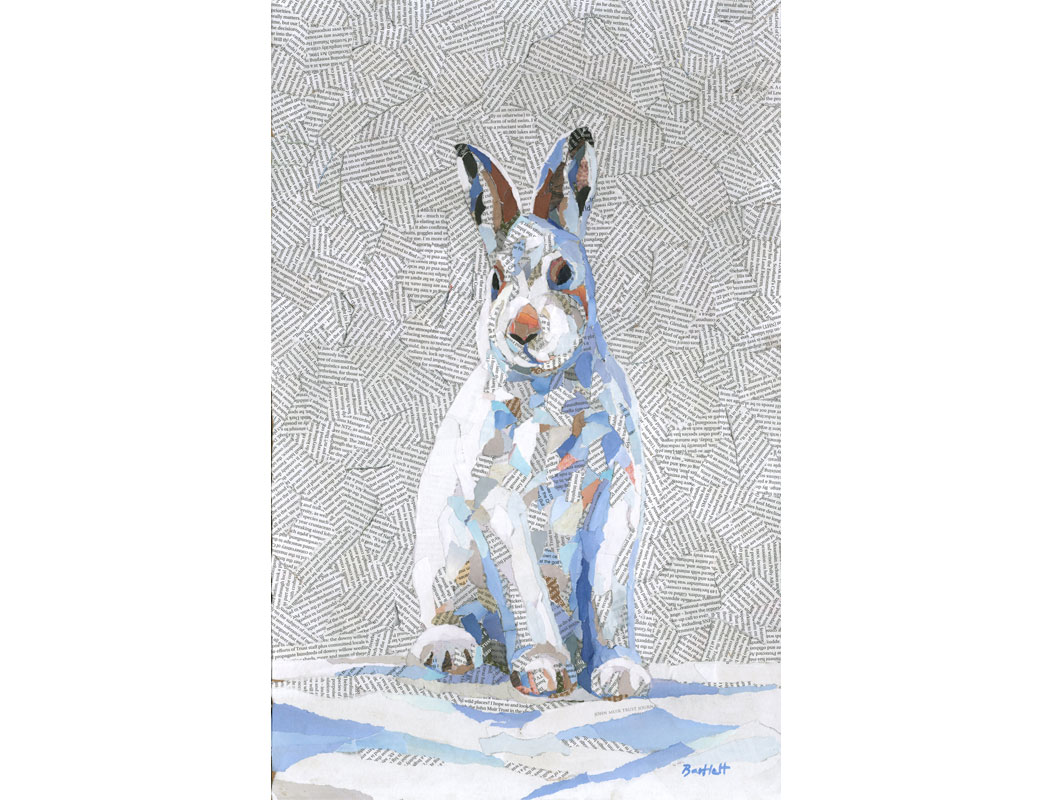 After successfully exhibiting in our gallery last September, Paul decided to make a painting inspired by the John Muir Trust. He used old John Muir Trust Journals to create this wonderful collage of a mountain hare, a species recently declared protected. Paul has also generously agreed to produce some limited edition prints, which will be available for sale in our visitor centre and online shop from the 21st of May. All profits will support the work of the John Muir Trust.
The artist declared: "One of my favourite things to do is to travel through the hills of Scotland, and doing so in winter offers a special kind of magic. Often on my winter trips, one of the few other living things I see are mountain hares which have earned a special place in my heart. To see a wild mountain hare bound effortlessly across deep powder is a wonder and the source of inspiration for many a painting. I'm delighted to support with my work the efforts of John Muir Trust to preserve our wild places, for the benefit of wildlife like the mountain hare".