Wild Action Week
11-17 October
Join us this Wild Action Week to show what we can achieve for nature when we work together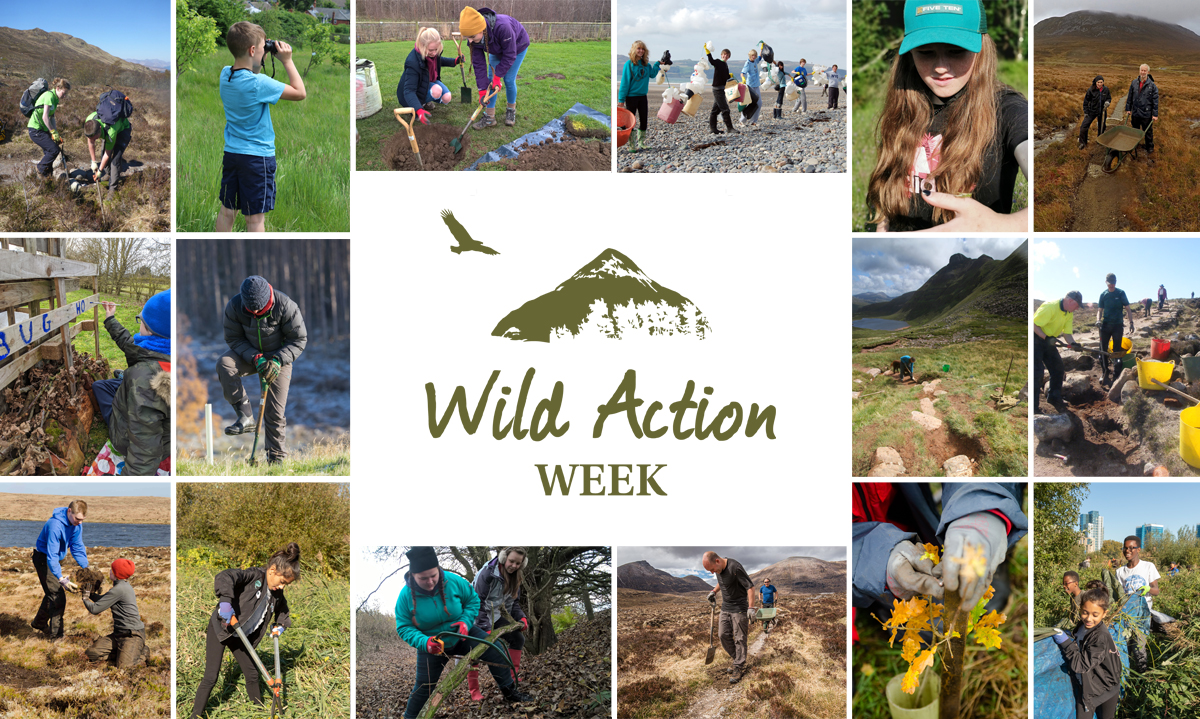 Whether you want to join in as an individual, family or group, or as a school or business, we want as many people to get involved as possible.
How to take part
Take a Wild Action – pick from our list below (or think of your own)
Tell us about it – share what you've done on social media using #WildActionWeek and @johnmuirtrust. We'll share as many as we can
Tag a friend and challenge them to do their own Wild Action!
Want to do more? Donate to our Wild Action Fund or text WILD to 70560 to donate £5
1. Clean up

We might not be responsible for dropping litter, but if we all took responsibility for picking it up when we see it, imagine how much we could transform the landscape! For those of you motivated by a challenge you could see how much litter you can collect in an hour, or be like an ant and pick up your weight in rubbish! And for the creatives, you could even turn your hunt for finding old junk into an art project.

Image: Litter collected by our rangers on Helvellyn

2. Get hands-on for wildlife

If the birds, mammals and other little critters out there all knew morse code, right now they'd probably be calling out a loud SOS. We've imposed on the natural world so much, they could do with our help. Put your practical talents to good use by building bird feeders and baths, bird and bat boxes, bee and insect hotels, or planting a wildflower patch for birds and insects.

Image: Bird boxes at Glenlude

3. Connect someone else with a wild place

Maybe you know someone who doesn't have easy access to nature, or hasn't explored the outdoors in a while, or perhaps you just want to share a place that's special to you? Why not take a friend or family member for a walk somewhere wild and share the experience with them?

4. Take action for our climate

Taking individual action against the climate crisis might seem like chipping away at a mountain with a rock hammer but it doesn't mean we shouldn't try to lessen our impacts in any way we can. Try switching to bike over car journeys for the week, going plastic-free, or trying to buy food from local producers and sellers where possible. If you're data minded you could calculate your carbon footprint at the start and the end of the week to see what a difference you've made!

5. Get started with a John Muir Award

Ready to jump in and commit to a multi-day challenge to discover, explore and conserve wild places? Wild Action Week is a great time to start planning or even starting your John Muir Award. Learn more about how to get started as an individual, family or group.

6. Many hands make light work - volunteer!

There's nothing quite like that shared camaraderie of volunteering with others doing meaningful work. At the end of the day, you can stand back and look at all you did, knowing that you've helped make the world just a little bit better than it was. Learn more, check out opportunities, and sign up for our volunteer emails for updates.

7. Share the love – what's your favourite wild place?

What wild places have you visited this year? Where did you experience beauty and awe? Maybe it was just a place where you felt peaceful and connected and took you away for a moment from the drama or the humdrum of life. Share your photos, stories, poems and artwork of wild places on Instagram, Facebook or Twitter using #WildActionWeek and @johnmuirtrust.

8. Support our Carbon Emissions Land Tax proposal

Our proposal for a Carbon Emissions Land Tax addresses the need to reduce carbon emissions in Scotland. It highlights the role - and current under-realised potential - of land functioning as a natural carbon store. Read it, share it, discuss it and sign up for a special event in November to hear more about it (details coming soon).