Helvellyn
The Trust took on management of Glenridding Common from 2017 - 2023 via a lease agreement with the Lake District National Park Authority, following a positive consultation with local and national stakeholders. We worked with our neighbours to protect and restore the ecosystem while respecting the area's cultural traditions.
In 2020, the Trust entered a partnership with United Utilities, Natural England and Cumbria Wildlife Trust, to manage the land around Thirlmere reservoir to create a resilient water catchment, supplying the water needed by people whilst providing a home for native biodiversity. The partnership will undertake survey and monitoring work, with a view to long-term peatland and woodland regeneration and the restoration of natural processes in the area.
Our legacy at Glenridding Common
The John Muir Trust have delivered a range of activities at Glenridding Common during our seven year tenure including:
Completed 71 habitat and species surveys: 45 breeding bird, 4 juniper, 1 health plot, 10 mountain ringlet butterfly, 1 bryophyte, 1 lichen, 1 Alpine mouse-ear, 1 Alpine saxifrage, 1 endemic Hieracium sp and 6 Moorland Indicators of Climate Change Initiatives surveys and surveys.
Invested over £80,000 in upland path maintenance and created local employment for two skilled path workers.
Worked in partnership with Fix the Fells on 10 joint volunteer work parties to deliver path maintenance.
In 2022 we removed 164 kg of litter, including 562 banana skins and 1,801 piles of tissues and wet wipes.
Planted over 1,000 native broadleaf trees in 21 ha of fenced exclosures.
Planted over 1,500 downy willow at high altitude.
Cuttings were taken from 6 rare montane willow species and various native flowers that are nurtured on throughout the year.
Nine volunteer growers have worked alongside Trust staff and Natural England to produce approximately 200 plants annually to be planted out onto high altitude ledges to increase remnant existing populations.
Led educational visits for Cumbria University, Patterdale Primary School, LDNP Young Rangers, The Lakes School, Outward Bound Trust, Cumbria Wildlife Trust Apprentice Conservation Officers, Outdoor Providers and members of the public.
What we're doing
At Helvellyn our work includes vital footpath maintenance and repair, litter collection and the re-establishment of rare arctic-alpine plants and mountain woodland species including downy willow, aspen, rowan and juniper. This work is carried out with the invaluable support of local, green fingered volunteers and partners including Fix the Fells.
At Thirlmere, the Trust has engaged 110 people in planting projects since 2020, charting the land and planting approximately 3,800 trees around Wythburn Beck. These trees will provide an important habitat and increase biodiversity, flood mitigation, carbon sequestration and reduce sediment flow into the reservoir.
More widely in the Lake District, the John Muir Trust work in partnership with LDNP Young Rangers, Ullswater Community College, Cumbria Wildlife Trust Apprentices, Local volunteers, Environment Agency staff, and Mountain Equipment staff.
Wildlife and species monitoring
We have carried out extensive survey work to establish baseline information for a variety of species on this nationally important upland site. Alongside partners and the local community, we're monitoring rare species such as mountain ringlet butterflies and arctic-alpine plants. We're also working with the British Mountaineering Council and Natural England to advise on suitable climbing conditions.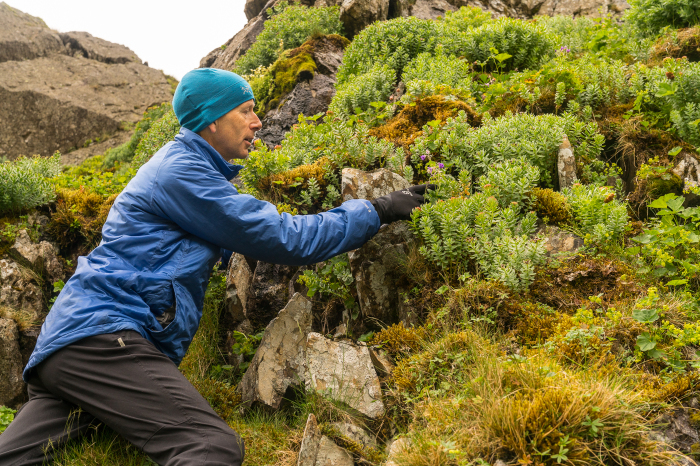 Volunteering and engagement
We are committed to making Helvellyn a key hub for conservation activity, ensuring that people of all ages and backgrounds can become involved in enriching the natural environment of this beautiful landscape.
We support residents and visitors as they enjoy and care for the Lake District's special qualities through the John Muir Award. Our engagement scheme has been firmly established in Cumbria since 2003 and in partnership with the Lake District National Park since 2011.
Volunteer with us
Learn more about conservation volunteering at Helvellyn and our other properties
Find out more
Wildlife at Hellvelyn
Helvellyn's high altitude crags and coves provide a refuge for rare arctic-alpine flora such as alpine saxifrage and alpine mouse-ear, which grow nowhere else in England. We're also working to restore a viable population of Mountain avens. The area also holds significant stands of juniper scrub woodland, plus a variety of montane and upland heath, grassland and flush communities.
Red Tarn holds a population of schelly, one of the UK's rarest species of fish, plus England's highest population of stickleback. Bird life is also rich, with snow bunting found on the high tops in winter, while upland species such as raven, wheatear and the red-listed ring ouzel all breed here in the summer. Butterflies spotted at Glenridding Common include the green hairstreak and the mountain ringlet.
Countrystride #57: Helvellyn
The Countrystride Podcast celebrates the landscapes, culture, heritage and people of Cumbria and the Lake District.
Listen to episode #57 and hear our England & Wales Development Manager Tom Hayek chat to presenters Mark and David, as they tackle one of Lakeland's most iconic fells via the rocky arête of Swirral Edge.