Conserve Audits
Conserve Audits capture the value and impact of the John Muir Award by demonstrating the positive difference participants make for our natural environment
A Conserve Audit is a monitoring exercise that identifies the amount of activity carried out to meet the Conserve Challenge of the John Muir Award. It captures the diverse range of actions people undertake as part of their Awards, and the benefits for both people and nature.
Since 2009, the John Muir Trust has undertaken periodic audits on national, regional and local partnership levels. See our selection of recent Conserve Audit summaries below:
UK Conserve Audit 2019 - showing the collective impact of individual responsibility and action through the John Muir Award and how this made a difference to wild places across the country
Young People in Scotland Conserve Audit - how young people took action for nature through the John Muir Award during Scotland's Year of Young People 2018
Telford & Wrekin Conserve Audit - how Award participants are making a positive difference for wild places in Telford & Wrekin Council and beyond, including through partnerships with Arthog Wales Outdoor Education Centre and Shropshire Wildlife Trust.
Conserve Audit 2015
In 2015, we took a look at what people across the UK give back through taking part in the John Muir Award. Headlines included:
36,200 days of 'Conserve' activity
carried out by 33,488 John Muir Award participants
valued at £1,291,710, based on Heritage Lottery Fund figures
over 7.5 hours of 'Conserve' activity per participant
Participants cared for nature across an extensive range of geographical locations and made improvements for a rich diversity of habitats, from mountain landscapes and coastal plains to woodlands and school playgrounds. And data was captured to measure everything from invasive species control to surveying earthworms, and tree planting to litter picking.
Download a summary of our UK-wide 2015 Conserve Audit to see how Award activity adds up to make a significant impact on the environment - not just for the John Muir Trust, but for partners, funders and everyone involved.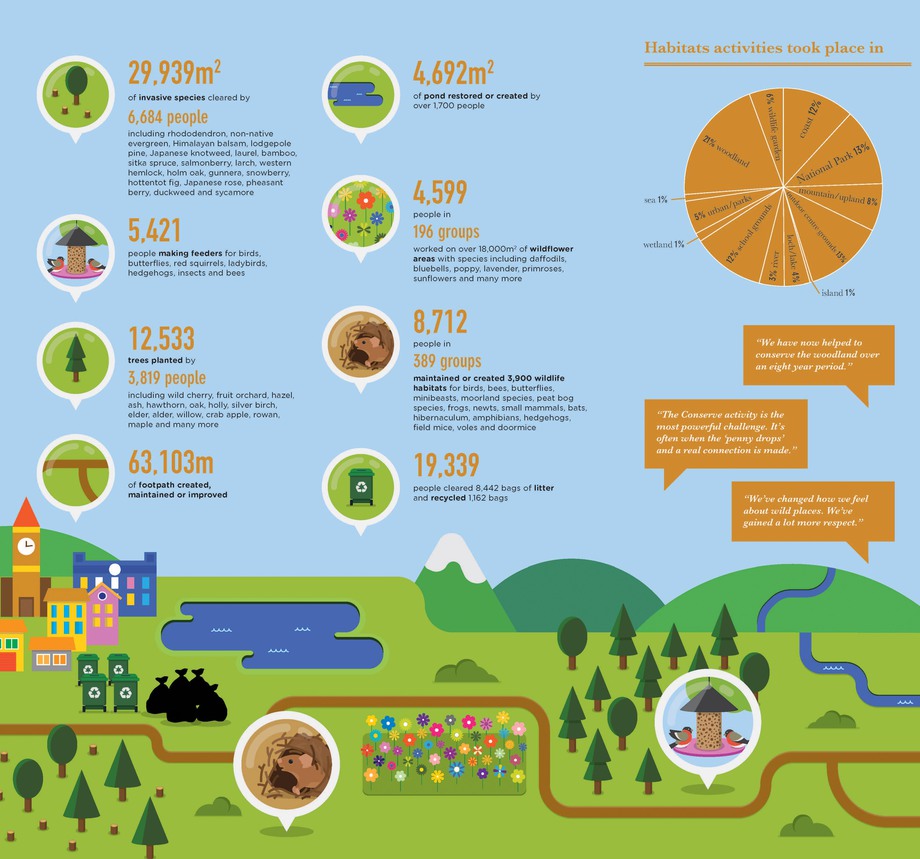 A huge THANK YOU to all of the John Muir Award Provider organisations and individuals that have participated in our Conserve Audits to date. We hope you are proud of your contribution – and the positive collective impact everyone's efforts are having for wild places.
We would love to hear of any ways in which you might make use of this information. You can share Conserve Challenge quotes and photos via #JohnMuirAward
Planting trees is just great fun. I'm interested in the environment and I've learned a lot. You get a real sense of responsibility, I want to come back to see how my trees are getting on.
- Louise, from Coatbridge