Impact & updates
How the John Muir Award impacts positively on people, places and planet.
IMPORTANT: Find out about and get involved with plans to redesign the John Muir Award here.
Through the John Muir Award, the John Muir Trust has a big impact for both people and nature because of the way we work together with a network of Award Providers – organisations that deliver the Award - and connect participants with wild places and the Trust's ethos across the UK.
To support the John Muir Award and inspire more people to connect with and care for wild nature please donate to our Wild Action Fund.
Benefiting wild places
Through the Award's Conserve Challenge, every participant makes a positive difference for wild places, reducing the stress on our natural environment and deciding how they can best give back to nature. From beach cleaning and tree planting, to citizen science surveys, building bird boxes and campaigning for change on issues from climate emergency to biodiversity loss, the collective impact is significant.
Conserve Audits
Our Conserve audits capture the value and impact of Award participation for wild places, highlighting the many and varied activities undertaken.
See the latest findings
Climate and nature impact report
See how the John Muir Award helps groups take action for the climate and nature in Scotland's first National Park and ways you can get involved.
Download report here
Changing mindsets
The Award's ethos encourages participants to minimise their impact on the natural environment – from considering access and our responsibilities in the outdoors, to making sustainable lifestyle choices. With around 40,000 people achieving a John Muir Award each year, many Award experiences have inspired individuals and families to become advocates for nature, whilst delivering the Award has supported leaders to incorporate environmental issues and approaches into their work. See our collection of Award testimonials to find out more.
What amazed me most was how quickly the pupils became attached to their wild place, they became guardians of it, they would check on it after school, and they were visibly upset if there was evidence of antisocial behaviours. The unloved old graveyard turned into a loved greenspace.
– Natalie White, East Ayrshire Council
Wildness for all
Each year through the John Muir Award, thousands of people access, appreciate and care for wild places in ways that are meaningful and relevant to them. For many, this can be their first ever opportunity to spend time experiencing nature first-hand. The Award's flexible framework allows for experiences to be tailored and adapted to suit individuals, groups and families. Each year at least 25% of Awards are achieved by people experiencing inequalities, such as financial deprivation, disability, unemployment and poor health.
Inclusion, Wild Places and the John Muir Award
See examples of how the Award is used to engage those underrepresented in environmental activities and how it can help deliver on national priorities.
Find out more
Improving health and wellbeing
Wild places contribute to our lives in many and varied ways – including encouraging recreation, active lifestyles and improving health and wellbeing through connections with nature. Survey responses from organisations highlight that working towards an Award impacts positively on participant physical and mental health and wellbeing, including helping participants be more active, boost confidence and gain a sense of pride through making a difference for nature and communities.
See Health Impact of the John Muir Award research findings about health-related behaviours, attitudes and aspirations of participants; and read more about 'green therapy' and the power of the natural world to improve wellbeing in our Nature's Healing Hands Journal article.
The John Muir Award is something rare: a simple, effective, enjoyable and potentially powerful intervention to enhance health, wellbeing and the environment, that actually works.
- Prof. Rich Mitchell, Institute for Health and Wellbeing, University of Glasgow
Health and Wellbeing
Find out more about how the John Muir Award is delivered in various settings to improve health and wellbeing outcomes
Learn more
Widening impact through partnerships
The John Muir Award is delivered through partnerships with many diverse organisations from various sectors – from schools, youth centres and community groups, to outdoor centres, Local Authorities, NHS and ranger services.
We collaborate with a number of organisations across the UK who share a common goal of inspiring and connecting people and nature, enabling us to widen our reach, share learning and achieve more together. Key partners include the Cairngorms, Lake District, Loch Lomond & The Trossachs National Park Authorities; the Keeping It Wild project partnership, East Ayrshire Council, Field Studies Council Scotland.
Interested in collaborating with us? Visit our support us page to find out more
Latest Updates
Award Newsletter
The John Muir Award Newsletter keeps you informed of current news, stories and events.
Browse past editions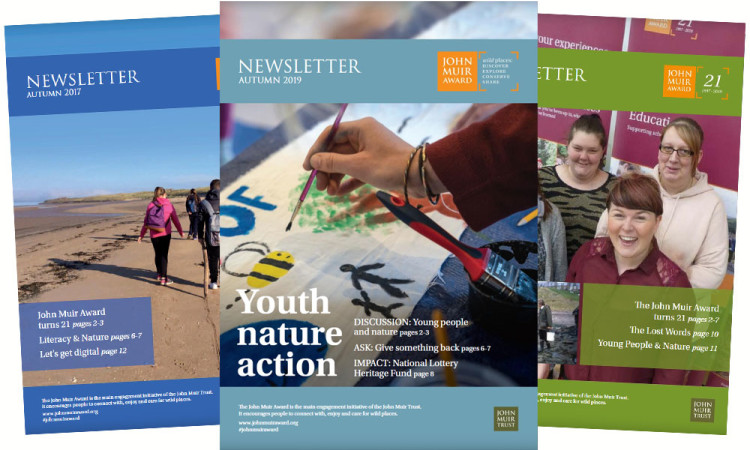 Award e-Bulletin
We send six e-Bulletins each year to help support John Muir Award activity and bring you the latest news and updates.
Browse past editions