29 Jun 2021
Nine ways we're working to restore ecosystems
This month the UN launched its Decade of Ecosystem Restoration. Here are nine ways we're doing our bit on the land we look after.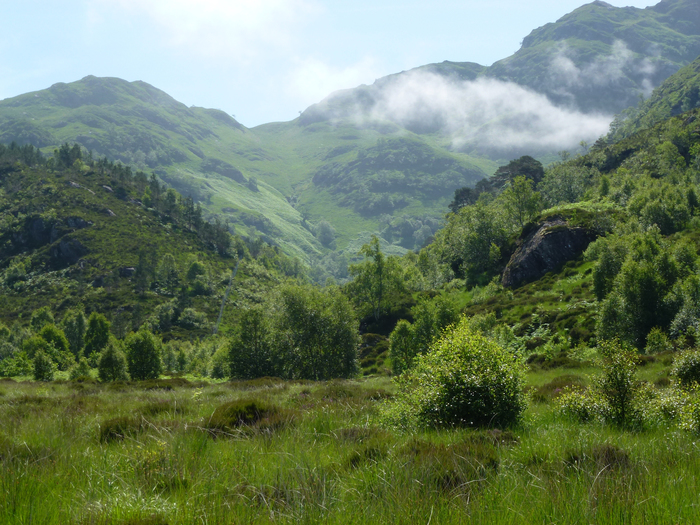 We've been working to protect and repair ecosystems for almost 40 years through our policy work, and action on the ground.
1. Trees not Bombs
Almost 40 years ago the John Muir Trust came into being with the purchase of Li and Coire Dhorrcail to prevent the Ministry of Defence from turning much of Knoydart into a bombed out wasteland. We've planted thousands of trees and helped to keep deer numbers under control so that woodland can regenerate naturally in the absence of natural predators. And we're doing the same on all the properties we care for, allowing nature the space to do its thing with just a little bit of a nudge from us.
2. Leave it in the ground
Peat, like fossil fuels, is best left in the ground. Peatlands account for only three per cent of the earth's surface and yet store 30 per cent of the world's carbon, as well as being home to many rare species such as the carnivorous sundew. One fifth of Scotland's land is peat but sadly 80 per cent is damaged. This year, thanks to NatureScot's Peatland Action programme, we've been restoring 36.5 hectares of peat bog at Strathaird on Skye by removing commercial timber and blocking ditches. This raises the water table allowing peat to rebuild by one slow millimetre a year!
3. Let me re-introduce you
Ok they might not have the allure of a wolf or cute ears of a lynx, but trees that grow on the tops of mountains are pretty important too. At Glenridding Common we're re-establishing rare arctic-alpine plants and mountain woodland species including downy willow, aspen, rowan and silver birch. And at East Schiehallion we've been introducing native tree species that couldn't get there without our help such as oak, hazel, holly and dwarf birch.
4. Big thinkers
We believe in landscape-scale restoration. That's because large areas with less fragmentation allow nature the space to move, adapt and become ecologically balanced and resilient. In 2010 alongside 13 other organisations, we helped create Europe's largest environmental restoration project, the Coigach and Assynt Living Landscape Partnership. The total project area is 635 square kilometres and includes Trust land at Quinag in Sutherland. We're also stewards of a total of 245 square kilometres of wild land across Scotland and England.
5. Natural carbon stores
The thing about carbon capture is nature does it perfectly already. No need to mess about with expensive technology. When ecosystems are restored, carbon gets captured in trees and soils, which reduces climate change impacts, which in turn makes ecosystems more resilient. And we've come up with a brilliant idea for a natural carbon land tax that would require large landowners to manage their land in the best way for biodiversity and carbon capture. This way every living being gets to benefit irrespective of who happens to own the land.
6. Sustainable deer management
They're cute, they're iconic and they belong in the Scottish countryside. However current deer population numbers far exceed the natural capacity of the land to sustain them. This is because numbers have been kept artificially high by private deer estates, making natural regeneration of woodland impossible. As part of the (Scottish Environment Link) Deer Working Group, we submitted a report that proposes changes to deer management. In March this year, the Scottish Government agreed that most of the recommendations need to happen if we want to hit climate and biodiversity goals.
7. Howdy partners
There's power in numbers. That's why we're continually working with partners who are on the same page as us to restore ecosystems. As well as the partnerships mentioned above we're working with the Alliance for Scotland's Rainforest to restore rare and ancient west coast rainforest. At Schiehallion we're part of the Heart of Scotland Forest Partnership which aims to restore 3,000 ha of mountain woodland. And on Nevis we work with neighbouring landowners as part of The Nevis Landscape Partnership to limit visitor impacts and help grow the native pine forest.
8. Staying on the path
They say the path to hell is paved with good intentions. We, on the other hand, have been using lots of hard graft to repair paths in the other direction - to the tops of mountains. Paths such as the old stalker's path into the Coire Dhorrcail on Knoydart. Good paths are vital to reduce erosion and protect fragile plants, animals and soils from big muckle boots.
9. We're nature too
Restoring ecosystems, restores people, restores ecosystems. We help get many people out into wild places through volunteering and the John Muir Award. Because when you get to experience nature's awesome powers you feel better and are more likely to take care of it through daily actions. We also work with communities who have brought land back into their control to share best conservation and restoration practices.
Pictured at the top: Regenerating woodland on land we care for at Li and Coire Dhorrcail in Knoydart by Stephen Ballard.